Welcome to the website for Milburn Electric antique automobiles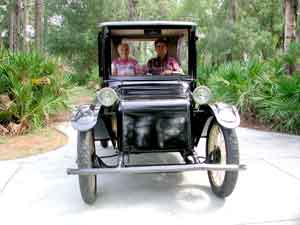 This site will provide a place for photos and information about "Milburn Light Electric" automobiles, which were produced for model years 1915 to 1923. This website was created by George Milburn of Sarasota, Florida and is currently maintained by Myles Twete of Portland, Oregon.

Many folks have contributed information and pictures for this project, especially those with cars listed on the "Registry" page. But the most steadfast collaborator continues to be Clarence Milburn of Dallas Center, Iowa, who has provided a wealth of content for the website, and continues to do so.

Those who like this website will also like the "Antique Electric Vehicles" newsletter, now published by
Victoria DeFreitas, N6474 State Highway M35, Menominee MI 49858 USA.

Another resource is the Antique Electric Vehicles List, an online forum hosted by Myles Twete. Drop in soon and say hello.
Recently added

02/14/2013: Added link to Antique Electric Cars page and updated Publisher address for Antique Electric Vehicles Newsletter



Click on an image for a larger view.
\
CAR S/N or Chassis ID#: Milburn used separate body ID numbers and car ID numbers. The car ID (or VIN) number should be stamped into a brass plate on every vehicle. On the Model 15 cars, the car ID plate has been found on top of the wood support under the rear seat. Model 22 and Model 27 cars also have been noted to have a plate under the seat or on the kickboard. With the Model 27L cars (S/N 2-900-7 and after), the S/N plate is an oval brass plate located at the rear of the car on top and in the center of the rearmost wood cross member under the battery tray----it is plain and has no writing, just the 2xxxx7 number.

If we don't yet have your car S/N and you find a car S/N plate on the car, please email us the number and any photos you have of the stamping(s). If there is no plaque, the S/N is still marked on your car. Model 15 (and 22?) car S/N is also stamped into the chassis behind one of the front hood latches. Model 27(L) car S/N is stamped into the topside of the forward-most part of the right front spring knuckle on the chassis. Paint often fills this in and requires removal of the paint layers to reveal the number.


Click on an image for a larger view.
BODY ID#: Do you know the "Body No." for your car? Have you located a "Body No." plate anywhere? One car (#2-2515-7) has a body ID plate (#16636) located on the rear cross member next to the car S/N oval plate. At least one Model 27 has a "Chassis S/N" ID plate mounted on top of the front wood cross member under the back seat (see car #2-373-7). Some early Milburns (Model 15 or 22) have Body No. plates on the interior kickboard under the seat.


If your car has a body ID# plate, please email us the number stamped on it and tell us where it was found. If not, don't fret---all Milburn bodies have the Body No. stamped into the primary body elements including the doors (very top, seen from above), hoods (very bottom, seen from below) and main body (passenger side, forwardmost corner, top of wood sill plate under front hood area). If we don't have your car's Body No. yet, please email us the number and any photos you have of the stamping(s).